Canada: New Confessing Anglicanism
by Andrew Symes, Evangelicals Now
The Anglican Network in Canada (ANiC) consists of over 70 congregations, which over the past ten years have seceded from the Anglican Church of Canada (ACoC), or have begun as new plants.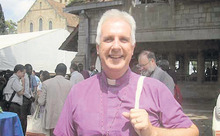 The movement began with biblically orthodox groups coming together as 'Anglican Essentials' in the 1990s, to re-state the basics of apostolic faith in a context of increasing influence of secularist and liberal thinking among the leadership of Anglican and other mainline churches.
As some congregations distanced themselves from revisionist Bishops in protest, they were aggressively pursued in the courts by ACoC. In 2007 the ANiC was officially constituted under the oversight of Archbishop Greg Venables from South America, and then 2009 saw the formation of the Gafcon-aligned, biblically faithful Anglican Church in North America, of which ANiC became a constituent Diocese. More details of the movement's history can be found here
http://www.anglicannetwork.ca/our_genesis.htm
Earlier this year it became clear that the Scottish Episcopal Church was intent on changing its canons on marriage, in opposition to the clear teaching of Scripture and in violation of agreements made by the Anglican Communion. Gafcon responded by consecrating a 'missionary Bishop' to minister to faithful Anglicans in Scotland, and to assist in the leadership of the emerging Anglican realignment in the rest of the UK and Europe.
The consecration of Andy Lines took place in Wheaton, Illinois in June, under the auspices of ACNA, after Bishop Andy, the Mission Director of Crosslinks who lives in London, had been received as 'canonically resident' in Canada as part of ANiC. I was able to represent him, and Gafcon UK at the ANiC Synod which took place at the end of October, and bring greetings from Britain.
The Canadian Bishops told me that just as faithful Anglican leaders from overseas had reached out to them in their hour of need, providing oversight when their own Bishops had decided to pursue a different 'gospel', so they were delighted now to be able to provide the same service, to assist confessing Anglicans who find themselves detached from their church because of their leaders' determination to pursue theological error.
It was very helpful and enlightening for me to spend four days with the leadership of ANiC, to get an insight into what kind of church they are building, having separated from Canterbury-aligned Anglicanism but remaining in fellowship with the Gafcon global movement. ANiC has retained more visible elements of traditional Anglicanism than some of the Anglican evangelical networks in the C of E, for instance. It is clearly episcopally-led, has Holy Communion at the centre of much (though not all) of its worship, and is administered with familiar polity of the Diocesan and parish systems. But like New Wine and ReNew, and unlike the theological diversity of the Church of England, it is firmly confessional and biblically based.
Each day of the Synod began with an exposition from Scripture, and on the second day we devoted three hours to seminars on the 'solas' of the Reformation. Prayer was a regular feature of the Synod, with intercessions led from the front, prayer in small groups (we spent 45 minutes on the second day praying for evangelism), and informal ministry to one another during breaks. There was a focus on the need for clergy emotional and spiritual self-care, church planting, and children's ministry.
I heard a number of stories from individuals, with a range of ages and churchmanship backgrounds, who had joined ANiC after becoming unable to live with the dissonance of being in a denomination captured by theological revisionism. One woman left ACoC after she heard her Bishop say in a packed Cathedral service that all religions lead to God. A clergyman led his whole congregation out of their ACoC building to set up a new work with ANiC after his Bishop 'prophetically' permitted same sex marriage despite not obtaining the required number of votes. Many have made considerable sacrifices for the sake of Gospel truth.
'Gafcon is our home', said Bishop Charlie Masters at the Synod. This is a model of Anglicanism defined not by relationship with Canterbury, but faithfulness to the Scriptures, and alignment with the majority of Anglicans around the world.
https://www.e-n.org.uk/2017/12/world-news/canada-new-confessing-anglicanism/
See also: Bishop William Anderson joins ANiC after retiring from ACoC: article in Anglican Journal here and notice of welcome from ANiC here