One of the World's oldest Christian Communities targeted in Nagorno-Karabakh
From Evangelicals Now:
Bearing the hallmark of ethnic cleansing, Azerbaijan escalated its military offensive against the civilian population of Nagorno-Karabakh, with reports that Azeri forces 'deliberately targeted' a medical centre in the city of Stepanakert, including a maternity and children's hospital.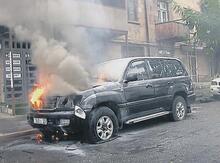 Nagorno-Karabakh's Human Rights Ombudsman, reporting from the medical centre said: 'This is the continuation of war crimes [by] Azerbaijan… they are deliberately targeting all of our civilian areas, including humanitarian buildings and hospitals.'
Reports emerged that Azeri forces used heavy weaponry to attack the peaceful settlement of Shushi using a Smerch multiple rocket launcher targeting residential areas, a school and other critical infrastructure vital to the survival of the civilian population.
Baroness Cox, CEO of Humanitarian Aid Relief Trust, who has visited Nagorno-Karabkah over 80 times, said: 'Civilian deaths, injuries and displacements are on the rise, reflecting a blatant and renewed attempt to destroy one of the world's oldest Christian communities, with grave implications for the region.
'Azeri forces, supported by Turkey, continue to deploy tanks, helicopters, drones, heavy artillery, multiple-launch rocket systems including Smerch, and cluster bombs, in breach of international humanitarian law and Geneva conventions.
'There are also widespread concerns about the recruitment and mobilisation of foreign mercenaries and Jihadist fighters from Syria and Libya transported from Turkey to Azerbaijan to fight against Armenians, with reports of others coming from Afghanistan and Pakistan.
'The scale and ferocity of recent offensives, including the suffering inflicted on innocent civilians, has intensified the justifiable fear among Armenian Christians of the possibility of ethnic cleansing from their historic land.'
The disputed territory of Nagorno-Karabakh is a historically Armenian region in the South Caucasus. During Stalin's divide-and-rule policy of the 1920s, the territory was given to Azerbaijan. Azerbaijan undertook a wholesale war against the Armenian Christians of Nagorno Karabakh in the early 1990s and unleashed massive military offensives in an attempt to achieve ethnic cleansing. A ceasefire was brokered in 1994. In April 2016, tensions sparked into conflict, referred to as the Four Days War.
Read in Evangelicals Now here
See report from Barnabas Fund here
You can support Armenian Christians: Barnabas Fund Appeal