Pastor receives death threat for tweet about Pride
from Christian Concern:
A Christian pastor and school caretaker who received a death threat for tweeting a warning to Christians that Pride events are harmful to children, is now taking legal action against the school for hounding him out of his job and capitulating to LGBT activism. The case raises the question of how far the LGBT community are prepared to go to silence mainstream Christian beliefs.
Pride not aligned with Biblical teaching
On 1 June 2019, Pastor Keith Waters posted to Christians on Twitter, warning them to steer clear of Pride events that month. He stated simply that Pride events are not aligned with Biblical teaching and that they are especially "harmful to children."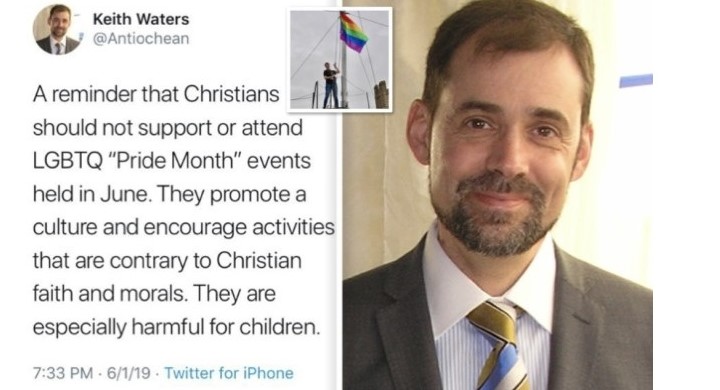 Keith had copied the tweet from a US Catholic Bishop. He said his intention was to address Christians about gay pride events across the UK, as they often involve nudity, people in sadomasochistic outfits and displays of an overtly sexual nature.
Harassed for tweeting
Within minutes of posting the tweet, Keith received a response from a local journalist and LGBT activist accusing him of attacking the local LGBT community in Ely ahead of Pride events that month.
The following morning, as Keith was preparing for a Sunday service at his church, a Cambridge based journalist arrived, harassing him and pressuring him to apologise for the tweet, which Keith refused to do. By Monday, just two days later, he was on the front page of the Cambridge Evening News, and online abuse continued to grow.
See also: Harassed for caring for children, by Tim Dieppe, Christian Concern:
Pastor Terrorized by LGBT Mob After Pro-Marriage Tweet, by Jules Gomes,  ChurchMilitant: