Sudan: New GAFCON province bishop
by Chris Sugden, Evangelicals Now:
Canon Precious Omuku from Nigeria, the Archbishop of Canterbury's Adviser on Anglican Communion Affairs and seconded from the Anglican Communion Office, was consecrated assistant bishop in Juba, South Sudan, in a televised ceremony on 3 January at the age of 68.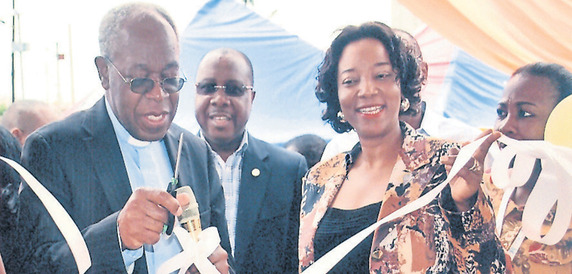 Bishop Omuku will remain in London as a special envoy of the Archbishop of Canterbury and be an international advocate for the Anglican Province of Sudan and South Sudan.
Background in business
A native of Nigeria, Bishop Omuku was formerly chief geologist and then Executive Director of Shell in Nigeria. He held government positions as Chairman of the Board of Directors, Rivers State Bureau on Public Procurement and the Supervising Chairman of the Rivers State Sustainable Development Agency.
He was ordained in Nigeria in 2002 and was vicar of a local church in Nigeria from 2002–2006. He then worked for Shell UK as Shell Corporate Advisor of Shell International London, and has been honorary curate of Morden (St Lawrence, St George, St Martin, and Emmanuel Church Hall) in Southwark Diocese since 2008.
His consecration has parallels with the consecration in Uganda of Sandy Millar, formerly vicar of Holy Trinity Brompton in 2005, aged 66, to be an honorary assistant bishop focussing on mission in the London diocese. He retired to Aldeburgh, Suffolk in 2010. The Diocese of London now has a bishop consecrated especially for mission from September 2015 in the revived see of Islington, vacant since 1923.
Bishop Omuku is the first bishop in Sudan to be consecrated and assigned from a different province. The communique of his consecration notes that in Sudan bishops are usually appointed who are natives of the relevant diocese.
In November 2015, the Sudan House of Bishops affirmed the membership of its primate in GAFCON and recognised the Anglican Church in North America. It also stated that it does not recognise teachings which allow same sex marriage.
Bishop Omuku will visit South Sudan quarterly. His appointment signals the commitment of the Anglican Communion and the Archbishop of Canterbury to associate closely with the work of the Episcopal Church in South Sudan to contribute to national reconciliation and recovery.
Uncertain situation in South Sudan
Despite having signed a peace agreement in August 2015, the current leadership in South Sudan shows no appetite to implement its conditions. The country is very unstable and tense, with the possibility of conflict breaking out at any time.
The only source of income is from oil but, with global prices below $50/barrel and the north (Sudan) claiming $24/ barrel transport costs, the government is receiving no income other than International Aid, so it is printing money to pay its bills. The economy is in crisis.
It is becoming clear that the current government is dysfunctional and the situation is unlikely to improve in the short term. Efforts will have to continue to try and influence the key players, but it is extremely frustrating and negotiators are becoming disillusioned.
Changing hearts and lives
In this situation, changing hearts, lives and behaviour through Christian ministry is of critical importance.
Baroness Caroline Cox of HART (Humanitarian Aid Relief Trust) visited in January 2016 and reports that 'negotiations are currently underway to prepare for the formation of a transitional government of national unity. Progress has been slow and some key deadlines have been missed. There is a great deal of excellent work being conducted on the ground for purposes of reconstruction and reconciliation by creative local actors.'
During the civil war the leader of the Sudan People's Liberation Army, John Garang, began to prepare a group of young men in their teenage years for leadership and called them the Red Army! They were ultimately dispersed but many have kept in touch with each other. Some still meet within the Episcopal Church in South Sudan.
The Episcopal Church of Sudan and South Sudan continues in partnership with Anglican International Development (AID) www.interanglicanaid.org. AID is training 50 clinical assistants for Sudan at the Mengo Hospital in Kampala (due to the conflict in South Sudan) in partnership with the International Christian Medical and Dental Association, the international organisation of which the Christian Medical Fellowship in the UK is part. It also supports the successful initiative, Trumpeter Community Health, to increase sanitation coverage for individual households and promote hygiene in the community and schools. It has also recently started a programme with Moore College Sydney, and George Whitefield College, South Africa in training faculty for Bishop Gwynne Theological College in Juba.