Just who is raising objections?
Five bishops in the Anglican Church of Australia have asked their church lawyers whether bishops can take part in consecrating another bishop of a church which is not formally part of the Anglican Communion.
Chris Sugden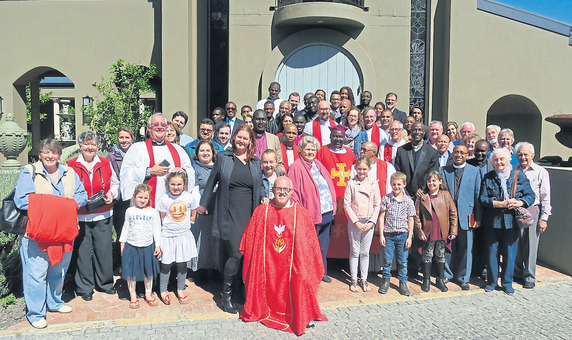 They raised objections to the consecration in May of the Rt Revd Andrew Lines of the Anglican Church in North America by the Archbishop of Sydney and bishops of Tasmania and Northwest Australia. These proceedings were set to dominate the meetings of the Church's General Synod in September.
Support from Africa
Meanwhile bishops from Uganda and Sudan have been taking steps to support a movement in South Africa to maintain bibli-cally faithful Anglican witness. The Southern Africa Mission held an ordination service of the Church of Uganda in Trinity Anglican Church Franchhoek near Cape Town on 10 September. The ordination was conducted by the Rt Revd Dr Joel Obetia, former Bishop of Arua and West Nile in the Church of Uganda and now on the faculty of Uganda Christian University. The priests of the church are missionary priests of the Province of Uganda, whose Archbishop Stanley Ntagali is Vice-Chairman of GAFCON.
The preacher was Archbishop Moses Deng of the Internal Province of Northern Bhar-el-Ghazal of the Episcopal Church of South Sudan. One priest is the Revd Gabriel Smith, a former officer in the US Army, and now the director of East Mountain, a mission community of 12 families committed to supporting biblically faithful Christian witness and mission throughout Africa.
Ordination of three South African residents as missionary priests to South Africa of the Church of Uganda took place in Arua, Uganda three years ago. Originally the consecrating bishop was to have been from a different Province. But news was passed to higher ecclesiastical authorities who then intervened to insist that, if the bishop went ahead, he should be dismissed from office.
The question must be asked whether Jesus' words to those who were fastidious about the religious laws of their time might be relevant here: 'You give a tenth of your spices – mint, dill and cumin. But you have neglected the more important matters of the law – justice, mercy and faithfulness' (Matthew 23.23). What matters most?
Unauthorised but blessed
I am reading an inspiring biography (Stewards of Grace, by Rollin G. Grams, Wipf and Stock, 2010) of two young American college students in their early 20s who worked as independent missionaries among black South Africans in remote rural areas in the early 1950s when apartheid was in force. They lived on very little; defied the apartheid culture, and drove for hours into the fields to preach, pray and heal – yes, heal through prayer – many hundreds of people.
No one authorised them, though they were recognized by local Pentecostal churches which had been founded through similar ministry by others. Their story is that they were responding to direct calls from God on their lives, through visions and direct promptings of the Holy Spirit.
When God calls and directs, is it not incumbent on Christian ministers to visit, inspect and discern if the work is truly a work of God? That was how the Jewish Christian successors to Jesus responded when they heard how Gentile Christians were responding to Paul's work among them. In time the work of the Holy Spirit in the church does get 'routinised' and churches do get 'institutionalised'. Bishops then get more worried about whether others who are being consecrated are full members of their particular brand, as though a commercial patent or copyright was being infringed, rather than finding out whether a true work of God by people called by God himself is taking place.
Evangelicals Now October 2017
https://www.e-n.org.uk/2017/10/world-news/just-who-is-raising-objections/