Xi Jinping, Carl Schmitt & China's New Era
by Tom Harvey, Oxford House Research:
On Thursday 10 November 2021, in a closed-door meeting of the Chinese Communist Party (CCP), 370 senior officials re-appointed President Xi Jinping (b. 1953; Pres. 2014-present) for an historic third term and enshrined him formally as an era-defining figure of the People's Republic of China (PRC) alongside Mao Zedong (1893-1976), the nation's founder, and Deng Xiaoping (1904-1997), chief architect of China's 'Period of Reform and Opening' (from 1978) or, as it is now called its 'Great Transformation'. In a series of articles (beginning on 1 November 2021), The People's Daily hailed Xi as a 'Marxist politician, thinker, [and] strategist' with 'immense political courage, intense sense of historical accountability and deep love of the people'. A man who embodied the party's ideal of 'not fearing a strong enemy, not fearing risks' and 'daring to fight and win'. What's really going on here? Is Xi wanting to avoid being outshone by his erstwhile 'best friend' across the border, Vladimir Putin (b. 1952; Pres. 1999-2000, 2000-2008, 2012-present)? Perhaps.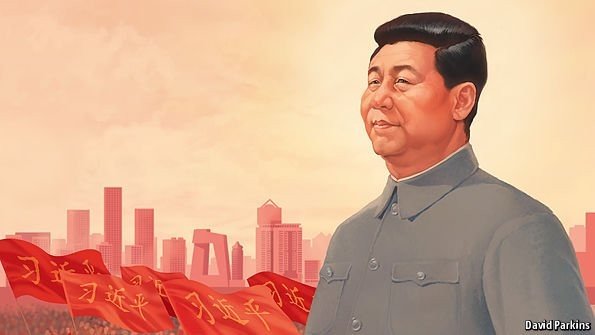 In many ways this rebranding of Xi is appropriate, given his already cult like status, his unchallenged autocratic rule, his rejuvenation of the power and prestige of the CCP, and the unswerving loyalty he claims to have from China's vast population. The move has left pundits and politicians in the West asking, however, whether Xi's Maoist style is a return to China's revolutionary ideological roots, or something new.
As in the Mao era, China is at odds with much of the political, legal, and economic system (and personnel) in the West. President Xi's failure to attend COP26 outraged many. But, below the surface of the revival of political enthusiasm for 'new era' China's revolutionary roots, Xi seems to be steering China in a decisively new direction. On closer examination, this is inspired less by Maoist ideology and more by the writings of the nowadays little-known German lawyer and political theorist, Carl Schmitt (1885-1985). Lauded by the Princeton political theorist Jan-Werner Müller (b. 1970) as 'liberalism's most brilliant enemy' and 'Crown Jurist of the Third Reich', Schmitt isn't everyone's hero – except, it seems, Xi Jinping and the new cognoscenti in Beijing.
Please right-click links to open in a new window.